Job duties of a concrete contractor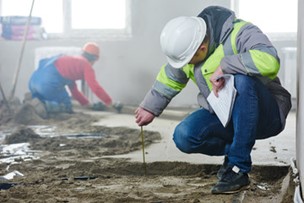 Weigh the benefits and costs of collaboration software for concrete work. Getting collaboration software for concrete jobs will increase productivity and profits. During a concrete job, lost time is the biggest detriment. Lost time means lost profits and is often the result of the inability to access documents and information, obtain the correct answers from engineers, or wait for workers to finish moving. Here are three ways collaboration software can help you increase productivity with concrete jobs. Read on to find out more.
Concrete Contractor
A concrete contractor has a variety of job duties. They work in various settings and may perform various duties, including mixing concrete in the correct proportions, pouring concrete from a truck, and finishing the concrete. Job duties include setting up braces, digging holes, and moving objects around a construction site. A concrete contractor may also be responsible for performing other duties, such as coordinating with plant operators and other contractors.
A concrete contractor will typically specialize in one or more areas of construction. Some of the work they will perform is home improvement-related, including building construction and driveway construction. They will also be responsible for removing debris from the site. Other tasks include leveling and compacting the ground before adding decorative components. Concrete contractors must adhere to strict safety regulations to ensure a quality product. In addition to following the codes, concrete contractors must have proper equipment to work safely around construction materials.
The job demands a high level of expertise in materials and equipment. It also involves risks, but most of them can be avoided with safety measures. A concrete contractor should also be knowledgeable about the latest safety regulations and precautions. Good employees can be a valuable asset to any company, as they become invested in its success. They can be more productive on a construction site and will win more jobs for their company.
A concrete contractor must have worked as a laborer on a concrete crew before they can begin their own business. Typically, these people enter the field by joining a union, where they undergo an apprenticeship program of 5,000 hours of paid on-the-job training and instruction. This way, they can work their way up from a laborer to a foreman or superintendent, eventually becoming concrete contractors.
An individual working as a concrete finisher must possess excellent math and reading skills. Good math skills are essential to accurately recording measurements and angles. Keeping physically fit will help them complete their job efficiently and improve their performance. They should also be capable of interacting effectively with others and providing clear instructions. If a concrete finisher cannot communicate clearly with his or her colleagues, he may not be able to complete the job effectively. This is necessary to avoid costly mistakes.
Pre-Concrete Conference
The World of Concrete 2020 conference opens on Monday, February 3. This event seeks to build a solid foundation for the concrete and masonry industry. Attendees come from every industry segment, including general contractors, decorative concrete contractors, construction managers, and masonry designers and engineers. Attendees are able to gain valuable insight and information during a comprehensive education program and the exhibition hall.
Once everyone is aware of the project's specifications and design, the pre-construction conference should include a detailed explanation of the concrete mix and specifications. The agenda should include the project address and name, as well as the project manager, owner representative, concrete subcontractor, testing lab supervisor, pumping contractor, and anyone else who needs to know about the concrete mix design and specifications. In addition to the project manager and general contractor, attendees should include all other key players who need to know what will be covered during the conference.
The Pre-Concrete Conference for concrete contractors is a great opportunity for the industry to network with other contractors and suppliers. The Expo will feature educational sessions, workshops, and special events, such as a keynote luncheon and awards presentation. Speakers will discuss the latest advances in concrete. Additionally, attendees will enjoy a plant tour.
The Pre-Concrete Conference for concrete contractors is the largest gathering of concrete professionals in the Midwest and Southwest. It will bring concrete contractors, suppliers, and manufacturers together for three days of educational seminars, networking, and other resources.
Required certification
Depending on your state, you may need to obtain special licenses to work as a concrete contractor. Many states require general contractors to get a license, but some require a special concrete license. Regardless of the license type, you must be at least 18 years old and have two to four years of experience working with concrete. There are also state requirements for contractors, including passing a written test and proving they are financially stable. Those attempting to get started as concrete contractors should also get a bond to protect their clients from any potential liabilities.
In addition to being environmentally friendly and durable, concrete construction is among the most technically challenging aspects of building design. A certified professional will be equipped with the tools necessary to meet the industry's high standards. A concrete construction certification course will give you a thorough understanding of every aspect of the process, from planning and design to placement and finishing. You'll also be able to assess the work quantity you need to complete and know how to use all the necessary equipment.
Many concrete contractors are certified as TCA members. A certificate of completion from a recognized training program is required to work in the industry. You can take the exam at World of Concrete or the Tilt-Up Convention and Expo. It also requires six hours of classroom training, a written exam, and a demonstration of your knowledge and skill. In addition, you must complete a training program for previous concrete and ensure there are enough certified individuals to cover the necessary work.
Additionally, some concrete contractors choose to take additional education outside of the classroom. Depending on your goals, you may wish to consider an apprenticeship through a union or technical school. You can also take an examination to be certified by a professional organization. Alternatively, you can learn on the job. For example, you may be able to take a course through an educational program and earn your certification. In either case, the certification reflects a superior level of competency and safety.
Cost of hiring a concrete contractor
You will need to know the cost of hiring a concrete contractor before you hire one. Concrete contractors charge about $140 to $190 per cubic yard, and a small job may require a cement mixer on a trailer. You can also rent one for a day or week for a little bit of extra cash. A concrete contractor will be able to advise you on the PSI and other details of your project, and can send you an accurate quote based on your cubic yard requirements. If you're working with a contractor that does not offer concrete on a trailer, check their references and the Better Business Bureau before hiring one.
A concrete contractor is also more expensive than a do-it-yourselfer. However, they have a lot more experience and knowledge about concrete and can help you avoid common mistakes. They also know the best concrete mix for your project, the proper time to pour it, and how to ensure that it sets properly. Compared to a DIYer, a contractor can complete the project faster than you can. A concrete contractor will also be able to save you time and money since they will take care of all the details.
Choosing a concrete contractor should be easy if you know how to do research. Reviewing several different contractors and deciding on the best one for your needs is vital. Even though many people understand the importance of making a decision, they are overwhelmed by the sheer number of options available and the range of estimated costs. The tendency is to believe that the most expensive option is always the best. In reality, a concrete contractor can be an essential part of any home construction project.
Whether you're hiring a concrete contractor for a small project like repairing a sidewalk or an entire building project, quality is important. Quality concrete is not simply water and cement; it must be weatherproof and durable to stand up to the elements. A good concrete contractor will have the right tools and equipment to complete your project quickly and efficiently. And be sure to check references before hiring a concrete contractor. And remember that the final cost of hiring a concrete contractor is well worth the quality of their work.
https://www.austinconcrete.net/
Concrete Contractor Austin
Concrete Maintenance Austin
Concrete Repairs Austin
Concrete Services Austin
Concrete Countertops Austin
Weigh the benefits and costs of collaboration software for concrete work. Getting collaboration software for concrete jobs will increase productivity and profits. During a concrete job, lost time is the biggest detriment. Lost time means lost profits and is often the result of the inability to access documents and information, obtain the correct answers from…
Recent Comments
No comments to show.